Verigo Data loggers
A small pod collects data during transportation. Simply synchronize the pod with a mobile device once the transportation is succeeded and gain full transportation insights.
Download data from the cloud, generate PDF reports, set alarms & receive notifications when things go wrong.
Sensors
  Completely wireless
  Automatic, safe cloud storage
  Wide range of models
Mobile App
  View real time data
  View on any mobile device
  Set thresholds and alarms
Cloud platform
  View & analyze every sensor
  Generate PDF reports
  Search & locate all sensors
Automatic cloud storage
Access data anywhere
Mobile App
View, analyze & share
PDF & Excel reports on-demand
Configure E-mail & SMS Alerts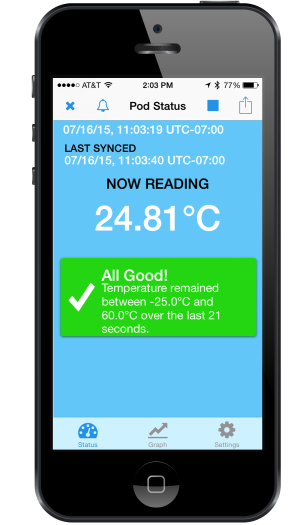 Mobile App
Use any smartphone or tablet to view, analyze, sync, and share data from all nearby Verigo devices.
By logging in to the Verigo Mobile App you can:
  Configure, start or stop any Verigo device.
  Wirelessly connect to any Pod from up to 40m.
  View all recorded data, excursions and alerts.
  Generate PDF reports.
  Set sensor thresholds and be alarmed when conditions go awry.
Models
Monitoring conditions should not be difficult. Easily collect data without software or wires.
Verigo pods are small, solid and easy-to-use in every situation. Due to automatic cloud storage, the collected data will always be safe and secure.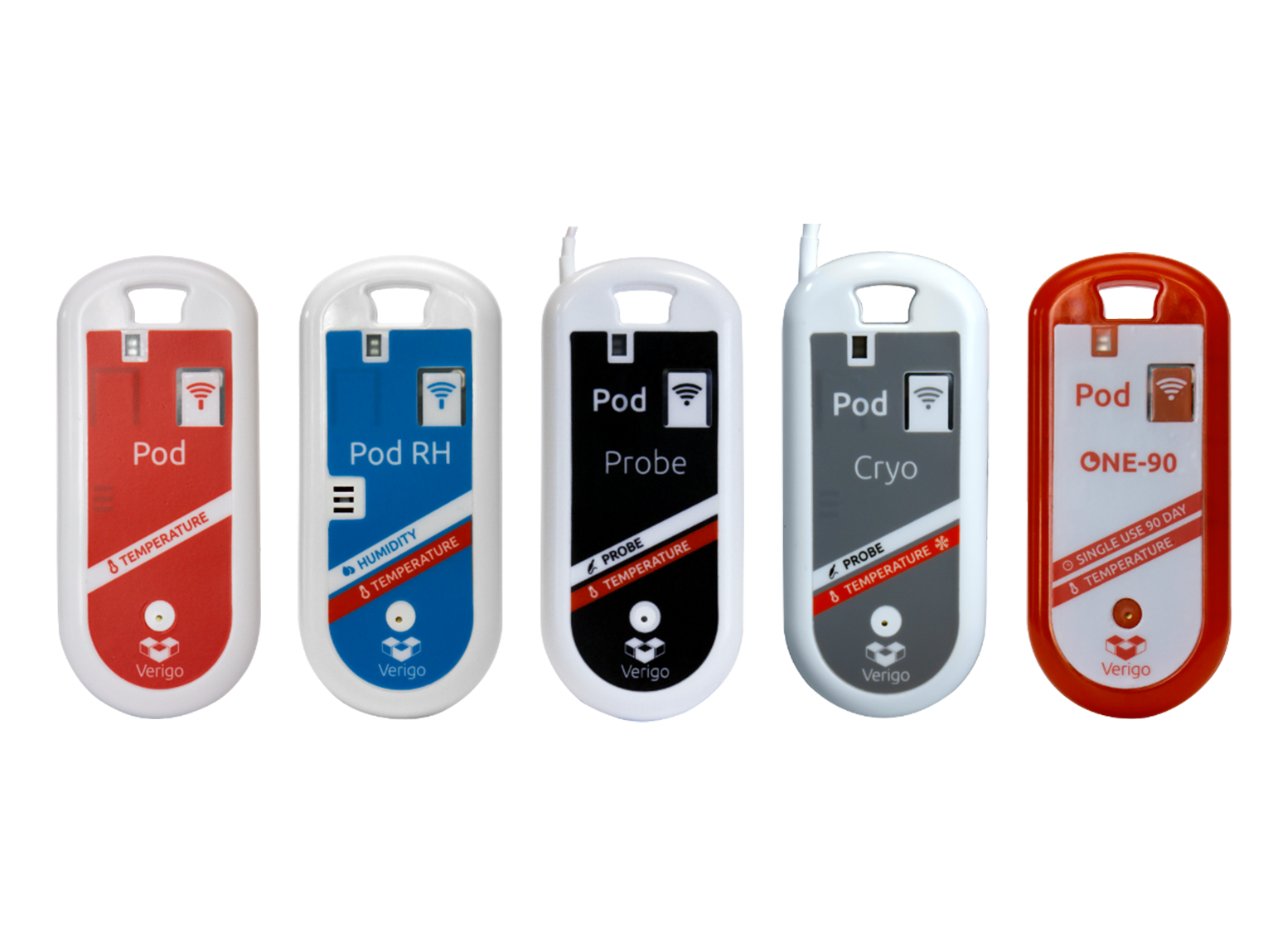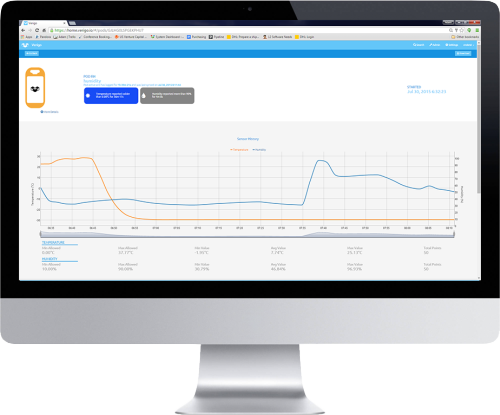 Cloud platform
All data gathered by the Pod will automatically synchronize to the Cloud.
By logging in to your Verigo Cloud you can:
  Search pods and specific records
  View and analyze data
  View a complete audit of every Pod with map overlay of GPS locations
  Generate validated PDF reports and download raw Excel compatible data (CSV)
Our wide range of models offers a solution for every challenge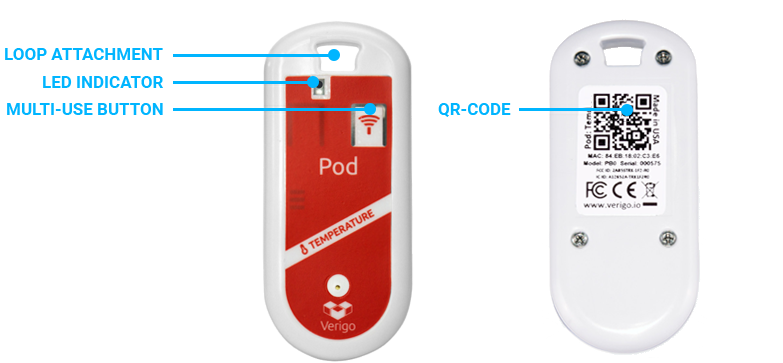 Temperature, Reusable
Whether you have a long supply chain, controlled warehouse, or single cooler – monitor for years without any installations.
| | |
| --- | --- |
| Functional Range | -20 to 60 °C (-4 to 140 °F) |
| Wireless Range | up to 30m (100 ft) |
| Battery Life | 1.5 – 5 years |
| Accuracy | ± 0.5°C (0.9°F) |
| Memory | 40,000 points |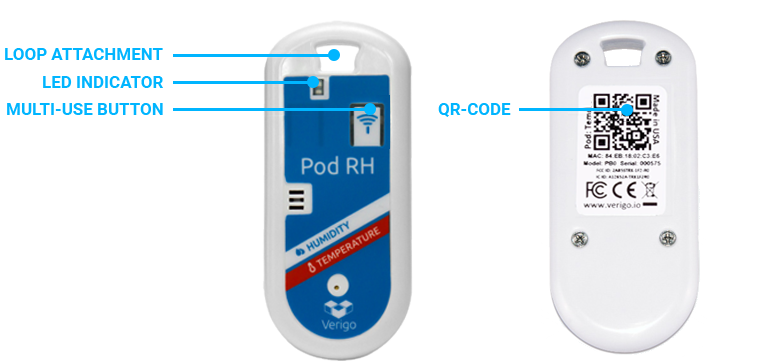 Temperature & Humidity, Reusable
Have confidence in the safety and quality of your therapeutics, foods, and chemicals using our temperature and relative humidity instruments.
| | |
| --- | --- |
| Functional Range | -20 to 60 °C (-4 to 140 °F), 0-100% RH |
| Wireless Range | up to 30m (100 ft) |
| Battery Life | 1.5 – 5 years |
| Accuracy | ± 0.5°C (0.9°F), ± 4% RH typ. |
| Memory | 80,000 points (40k Temp + 40k RH) |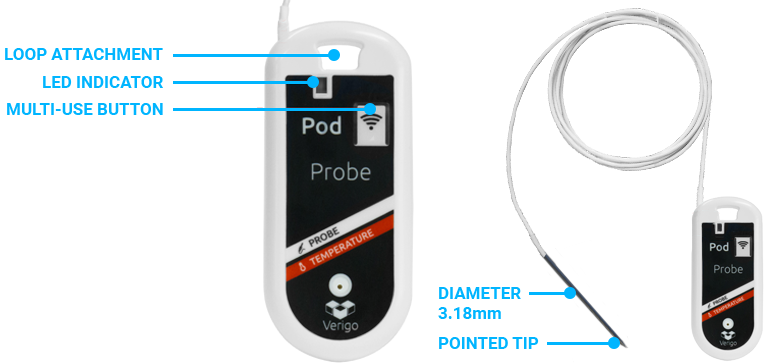 Temperature with Probe, Reusable
Looking to monitor extreme environments? The Pod Probe comes with a pointed tip probe on a 2 meter cable for high-accuracy temperature logging.
| | |
| --- | --- |
| Functional Range | -80 to 80 °C (-112 to 176 °F) |
| Wireless Range | up to 30m (100 ft) |
| Battery Life | 1.5 – 5 years |
| Accuracy | ± 0.35°C (0.63°F) |
| Memory | 40,000 points |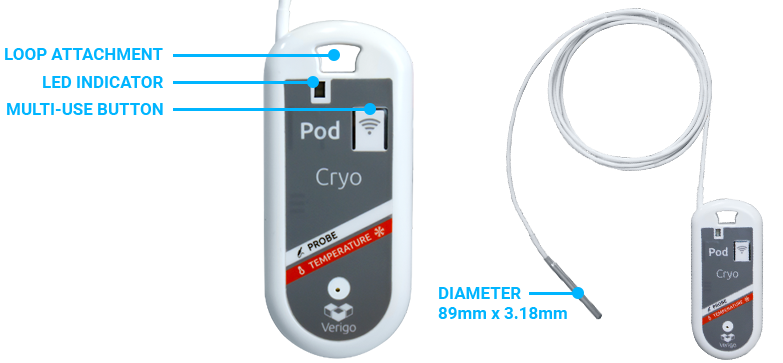 Cryo with Probe, Reusable
Cryogenic probe for low temperature applications.
Functional Range
-200 to 100 °C (-328 to 212 °F)
Wireless Range
up to 30m (100 ft)
Battery Life
1.5 – 5 years
Accuracy
± 0.35°C (0.68°F) from -20°C to +20°C
see datasheet for more information
Memory
40,000 points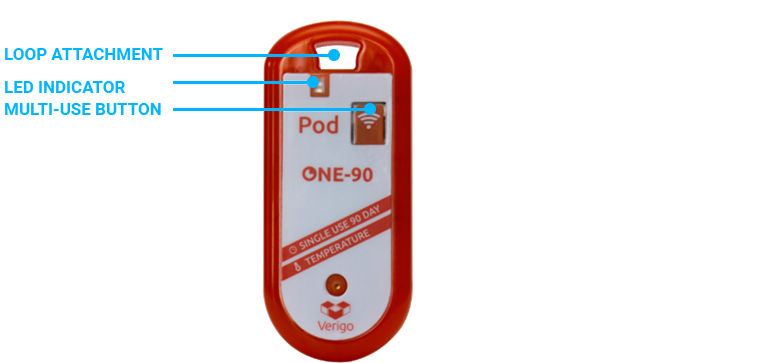 Temperature, Single-use
Looking to monitor just one trip? The single-use Pod One-90 provides an inexpensive, yet fully-featured, monitoring solution.
| | |
| --- | --- |
| Functional Range | -20 to 60 °C (-4 to 140 °F) |
| Wireless Range | up to 30m (100 ft) |
| Battery Life | 90 days (3 years shelf life) |
| Accuracy | ± 0.5°C (0.9°F) |
| Memory | 10,000 points |
PDF Reports
Generate PDF reports for sensor data
Search all Pods
Search through sensor data from all Pods connected to your account
Location
View the location of your Pods at different times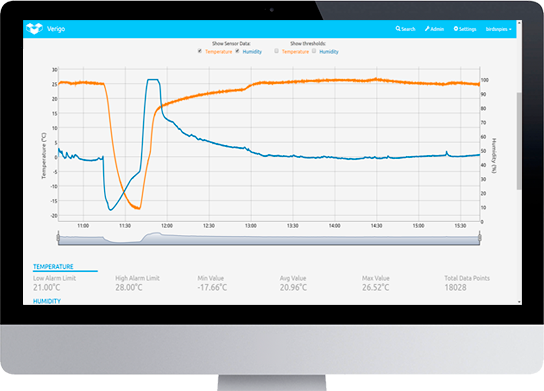 Automatic Cloud Syncing
All Pod data is automatically synced through a mobile device to Verigo's web app.
Simply log in and start searching current and past Pod records.
  Remotely view and see your Pod data from across the world
  Bring traceability to your supply chain with past records
  Identify patterns to help improve your supply chain processes
Location Tracking
When using the Verigo mobile app with GPS turned on, location logs for your nearby Pods are captured.
  Track where your Pods are from the comfort of your office
  Verify a Pod reached its destination on time
  Review location histories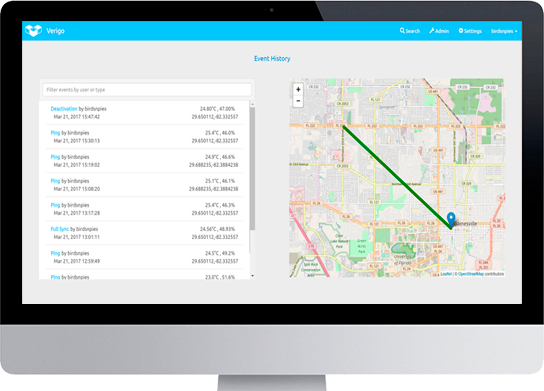 Report Generation
Let Verigo help with analyzing and sending your data.
  Generate PDF reports about your Pod
  Download sensor data for further analysis
  Email your reports to coworkers and colleagues
Wireless
Wirelessly read temperature and humidity levels from nearby Verigo Pods.
PDF Reports
Generate PDF reports for sensor data and share them directly from your mobile device.
Alerts
Set sensor thresholds to receive E-mail and text alerts when conditions go awry.
Data Graphs
View sensor data immediately on any mobile device to easily identify trends and threshold excursions.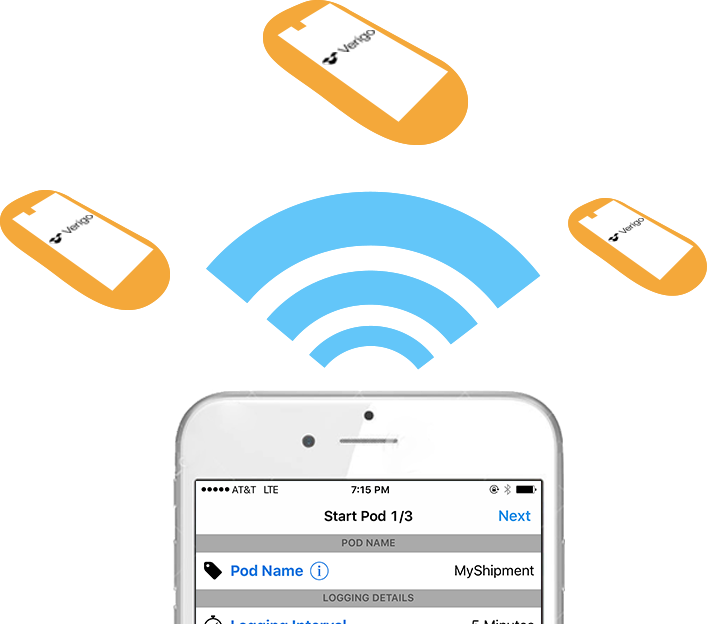 Immediate Insight
Instantly get insight and visibility of all your shipments.
Verigo Pods bring actionable data to your fingertips through wireless communication with your iOS and Android devices.
  Save time and eliminate the need to find your data logger
  Avoid opening containers to retrieve data
  Speed up your QA processes
Shipment Integrity
Immediately know when shipment integrity is compromised and action is required through Verigo's mobile app alerts.
  Set sensor minimum and maximum thresholds
  Be alerted when something goes wrong
  Bring accountability to your supply chain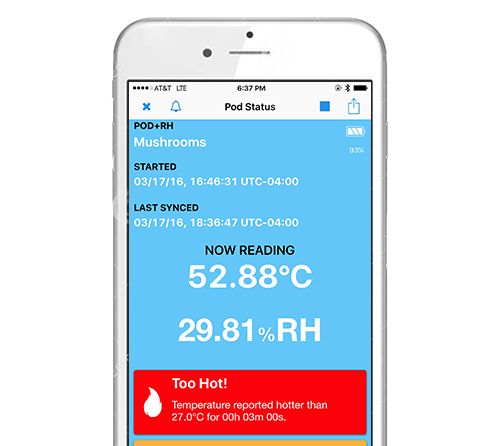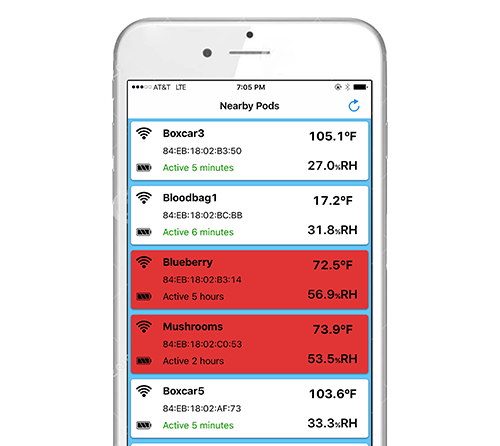 No Infrastructure Required
Why spend the time and money needed to install infrastructure throughout your supply chain?
  Fit all the infrastructure required into your pocket
  Eliminate the need for proprietary readers and cables
  Maintain your supply chain solution with little overhead
Complete Shipment History
Need to quickly investigate your entire shipment history?
Use the Verigo mobile app to analyze and view all data related to your Pod.
  View complete sensor logs and basic statistics
  See when and how long sensor thresholds were exceeded
  Email the data from your phone or tablet