Colors permanently when exceeding threshold
Customization options possible
Self-adhesive rear
Available from + 15 ° C to -2 ° C
Request quotation
General information
Descending Irreversible Indicators. The Descend temperature indicator provides a clear visual indication that products have been exposed to critical falling temperatures.
The Descend temperature indicator clearly shows when products have been exposed to cooler temperatures with an irreversible, color change from green to red. Descend temperature indicator alerts all key stakeholders throughout your supply chain if a product has been exposed to a cool or freezing temperature that may compromise quality or efficacy.
Highlights of the Descend indicator
Accurate, irreversible color change
Unique identification in the form of a QR code
Color transition in less than 1°C temperature range
Accuracy independently tested at ±2°C or tighter
Store your temperature data
When paired with the free App and Cloud Service, you will have your Descend temperature data at your fingertips 24/7. Stay connected to your temperature data throughout the supply chain to protect your products and the end user.
Ease of use
Descend temperature labels are easy to implement, use and maintain:
Efficient and effective monitoring
Designed for easy adherence to any product
Environmentally safe with no toxic chemicals
Our solutions include both color-changing and electronic options to cover the product, pallet and truck-level.
Rely on IntroTech to meet your unique temperature monitoring needs.
Technische specifications
Specifications

Temperature capability range
Within +15˚C to -2˚C
Commonly requested events
+15˚C, +10˚C, +6˚C, +4˚C, +2˚C, 0˚C, -2˚C
Accuracy
± 2˚C (tighter accuracies available)
Shelf Life
4 years
Size
29 mm x 30 mm
(custom sizes available)
Format
Self-adhesive labels
Indicator Display
Unactivated (not triggered): green circle is clearly visible
Activated (triggered): red circle, or any red in display area
Optional display: white to black color change
Color Change
Permanent
Environmental
Non-hazardous, normal disposal
(no glass components)
Activation
Self-activating
Storage
Room temperature
Dimensions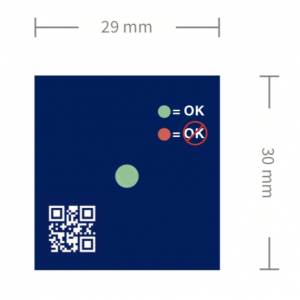 Activation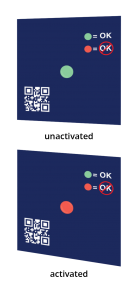 Application